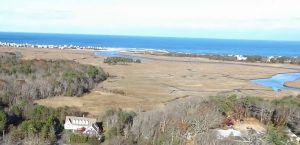 Summer is here and you still haven't booked your Cape Cod vacation?  Not to worry.  We can help!
Let's talk about the towns of Sandwich and Sagamore.  They're truly perfect locations.  Not far from destinations "Off Cape," but not too close either.  You've definitely crossed a bridge when you are in the town of Sandwich, it feels "Capey," and you don't have to sit in 5 hours of traffic to get there!  The sea food is just as good in Sandwich as in Provincetown thanks to new restaurants like Fisherman's View that provide boat-to-table cuisine on Cape Cod Canal with a freshness that rivals any outer cape establishment.  The beaches in Sandwich aren't crowded.  There are lots of creeks and estuaries to place a kayak, canoe, or a raft full of people.  In Sagamore when you go to the beach, the waves, cool waters, and sand makes you feel like you're at the National Seashore without your having to brave those toothy waters.
Sandwich puts on a Fourth of July celebration that's on par with any other Cape destination – with a parade, festivities, fireworks on the beach, and a lighted boat parade that dates back to the late 1800s.  For the history buff who wants more from a vacation than just a couple beach days, Sandwich is the place to go.  Cape Cod's oldest town is full of museums, historic buildings, conservation trails, and a quaint village complete with Grist Mill that begs to be explored. Sandwich's quaintness is authentic and it has become a food destination.  From wood-fired pizzas, to gourmet burgers, tea shops and venues with views, to food trucks and ice cream parlors….We don't have a best Sandwich in Sandwich competition at Sandwichfest for nothing.
Here are some of the rental listings we have available in Sandwich and Sagamore.